It's not just coffee at Dunkin'! There are plenty of other drinks for you to enjoy that tend to be much simpler. Some of these can be customized with milks, sugars, and flavors too. Here are some drinks, both hot and cold, to enjoy:
Refreshers
A refresher is made with a concentrate and green tea. These drinks only come cold, and as of right now, in two flavors. The strawberry-dragonfruit and the peach-passion fruit. These flavored concentrates are mixed in with tea to create a nice cold juice. The concentrates come pre-sweetened but if you want a different taste, you can always add more or less of the concentrate or include sugar.
Iced Teas
At Dunkin' we have a green iced tea and a black iced tea, these teas are made with no additives and therefore come unsweetened. You can always ask to add any kind of sugar or ask for some on the side or for any lemon slices. Another popular option is to include those blueberry and raspberry flavor shots! Play around with our options and find the perfect tea for you.
Hot Teas
Technically, any of the hot teas can be steeped and then poured over ice to enjoy cold. The hot teas we carry are…
Black
Green
Chamomile
Berry Hibiscus
Mint
These are, for the most part, enjoyed hot but again, you can have if poured over ice if desired or you can ask for a cup of ice to do it yourself once the tea has set for a little longer. Again you can add any flavor, milk, or sugar you desire into your tea.
Hot Chocolates
For those rainy days, we offer a nice cup of hot chocolate in different flavors! We carry mint, salted caramel, Oreo, a regular hot chocolate and a Dunkaccino. Our unique Dunkaccino is made with a blend of coffee and hot chocolate, a creamy but strong hot chocolate. If it's for a kid, ask for a couple of ice cubes to cool it down or add some cold whip cream on top!
Frozens
If you want anything blended look for our frozen drinks. We have a frozen coffee that does have some caffeine but it is not as strong as it is made from a coffee syrup, a frozen chocolate, and our coolatas.
Frozen Coffee
Our frozen coffee is made with the base of coffee syrup and creamer, you can chose a flavor if you want or you can change the dairy used. It is blended together with ice and can be topped of with whip cream and drizzle if you'd like.
Frozen Chocolate
This is a hot chocolate but blended with ice. It starts off with hot chocolate mix, mocha swirl, and milk. Again you can customize this with any flavor or milk choice but just know it is already very sweet! It is served in a chocolate drizzled cup and topped with whip cream and more chocolate drizzle.
Matcha
Matcha is a green tea powder described as "grassy and sweet". It has a vibrant green color and is widely popular for its delicious taste and health benefits. This drink can come hot, iced or frozen. The fine powder is mixed with milk and served hot, poured over ice to be served cold, or blended with ice to make a frozen.
Coolattas
Coolattas are essentially slushies. We carry strawberry, blue-raspberry, and vanilla flavors to blend with ice and sugar to create this drink. In certain cases, customers like to add milk to the mix and make it creamier. Flavors can be mixed with one another or you can add swirls or flavor shots.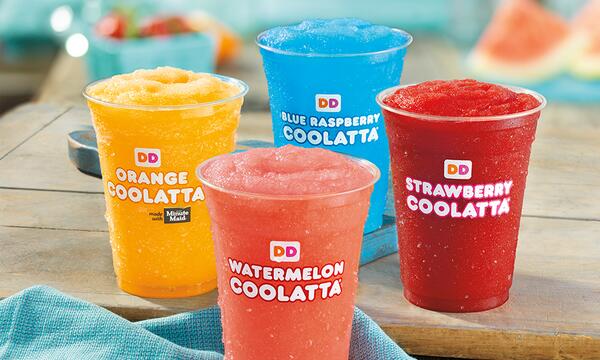 UP NEXT….Let's be honest